Read about the enduring customer relationships we build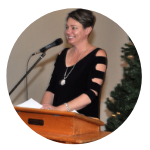 Andi van Koeverden,
Director of Strategic Advancement,
The Mount Community Centre
"The Mount Community Centre is a registered charity, and we knew nothing about All Office Machines' customer service levels prior to hiring them in 2015.
We were using multiple desktop printers, which became too costly to run and too time-consuming to maintain as our organization rapidly expanded.
Arlene took time to thoroughly understand our needs before suggesting two workable solutions, which both fell within our budget.
Over the last three years, we have saved several thousands of dollars in printing costs, plus we have seen increased productivity and convenience brought by networked printing.
Arlene and her team are highly ethical and have established an unbreakable trust with The Mount Community Centre. They provide exceptional customer service levels; it's like we are their only customer!"
Sheila Thompson
Senior Business Analyst
AON Inc. Peterborough
"Arlene and her team want to build a successful long-term relationship with you.
AON uses multifunctional devices, mailing machines, and a scanner supplied by All Office Machines.
We recently experienced performance issues with one of our devices, causing frustration and wasted time with print jobs.
Arlene and her team ran extensive diagnostic exercises. While we were unable to discover the root cause, they arranged with the manufacturer for a lease buy-back and replacement machine – we couldn't have done this by ourselves.
Their dedication to building long-term successful customer relationships alongside their strong manufacturer relationships is what really sets All Office Machines apart."
John Cunningham
President & Managing Director
Community Alternative Funeral & Cremation Services

"As our need for more printing increased over the years our little printer just wore out and couldn't do the job anymore. It was also really hard to find a smaller printer that would deal with the legal size documents easily. It would always run out of memory while scanning and you would have to put the legal size papers through the document feeder as it would not allow you to put it on the platen.
Initially, when I first started talking to Arlene in regards to upgrading our little printer, I was worried about the ongoing costs. I was concerned the cost per copy was going to increase. As it turned out, it wasn't nearly as expensive as I thought it was going to be.
Arlene was able to find us a refurbished multifunction device that helped with giving us a taste of what the colour world was like, and it also helps to keep the running costs down.
It also allowed us to print our price list, memorial cards, promotional materials, and our brochures on a regular basis. It was so easy to network with all our workstations. The reliability is great, and I loved the stapling feature. 
We have since upgraded once again to another refurbished copier printer and found the technology of this latest device a bit challenging at the beginning. There was quite a leap in technology. Peter and Kevin, got it all set up for us and gave us some training. They were also great at answering our ongoing questions and coming up with solutions to our problems as we used the copier more and more. 
We have always enjoyed our working relationship with everyone at All Office Machines. The service has always been excellent, the prices are great, and it is just nice to be able to put a friendly face to the company. It is wonderful having a local company where you know the people you are dealing with."
Chase Curtis
Branch Manager – Peterborough
Alf Curtis Home Improvements Inc.
We were having huge compatibility issues with our folder inserter and Windows 10. With the unwillingness of a previous supplier to assist us with the technical difficulties, passing blame and not offering proper support, it would take us 3 days of manual labour to get our job completed.
Thanks to All Office Machines we now have a folder inserter that is totally compatible with our software. It reads and categorizes the information properly. It doesn't jam on a regular basis which accelerates the job and we now get it done in ½ a day.
Our IT department is very thorough and can be very demanding at times and the staff at All Office Machines is very skilled and goes the extra mine to make sure everything is working properly.
I have never had any issue with getting help, be it our own fault of running out of toner, with hardware or software, etc. All Office Machines has always responded very quickly.
All Office Machines is a very personable local family run company who is there to support somebody in their business.